!– Código do Schema.org também para o Google+ –> <!– para o Twitter Card–> <!– para o sistema Open Graph–>

SELECTED PROJECT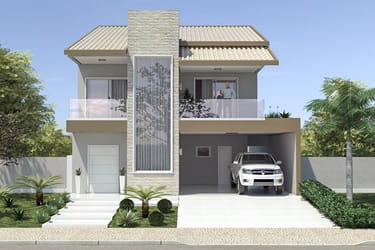 House plan with two waters roof
Project code: 115A
Know one of our favorite projects, with a modern facade and apparent roof, this house has a garage for two vacancies and three bedrooms, the one with a double and a suite. All rooms have a great use of spaces with built-in wardrobes. The upper deck is well insulated from the social part of the house ensuring greater privacy. In the social area of the house we have the ground floor, where TV room, dining room and kitchen are integrated and with access to a great gourmet area, a place to enjoy family fun. With good distribution of rooms, we were able to free up space at the bottom of the plot for a planned garden next to a swimming pool with hydro, perfect for family moments and weekends.
SHIPPING METHOD
In your country we deliver only via email.

Sending will be done within 10 business days.
Remember to check your spam box.
PURCHASE SUMMARY