!– Código do Schema.org também para o Google+ –> <!– para o Twitter Card–> <!– para o sistema Open Graph–>
Townhouse with 4 suites with pool and deck
Project code: 166A

PURCHASE
A townhouse with an exuberant facade, this project has a modern and direct air, elaborated with straight lines and elegant design. The facade has wooden details that make up with the burnt cement. A balcony completes the look, above the garage that holds 2 vehicles. Inside, the project leaves nothing to be desired: very spacious and wide, the social area has a living room, kitchen and dining room, as well as an office and TV room, separating the environments well. The highlight is even for the leisure area of ​​the house. Very well distributed, space is not lacking here: The gourmet area has a barbecue, table for meals and a space for TV and armchairs, to bring people together in a calmer event. The pool and deck complete the space perfectly, together with a green area that harmonizes this environment. The intimate environments are on the upper floor, great for separating the social area from the intimate area. The upper floor has 4 suites, one of which is Master, this house has everything to suit all types of residents.
HUMANIZED PLAN

Reverse plan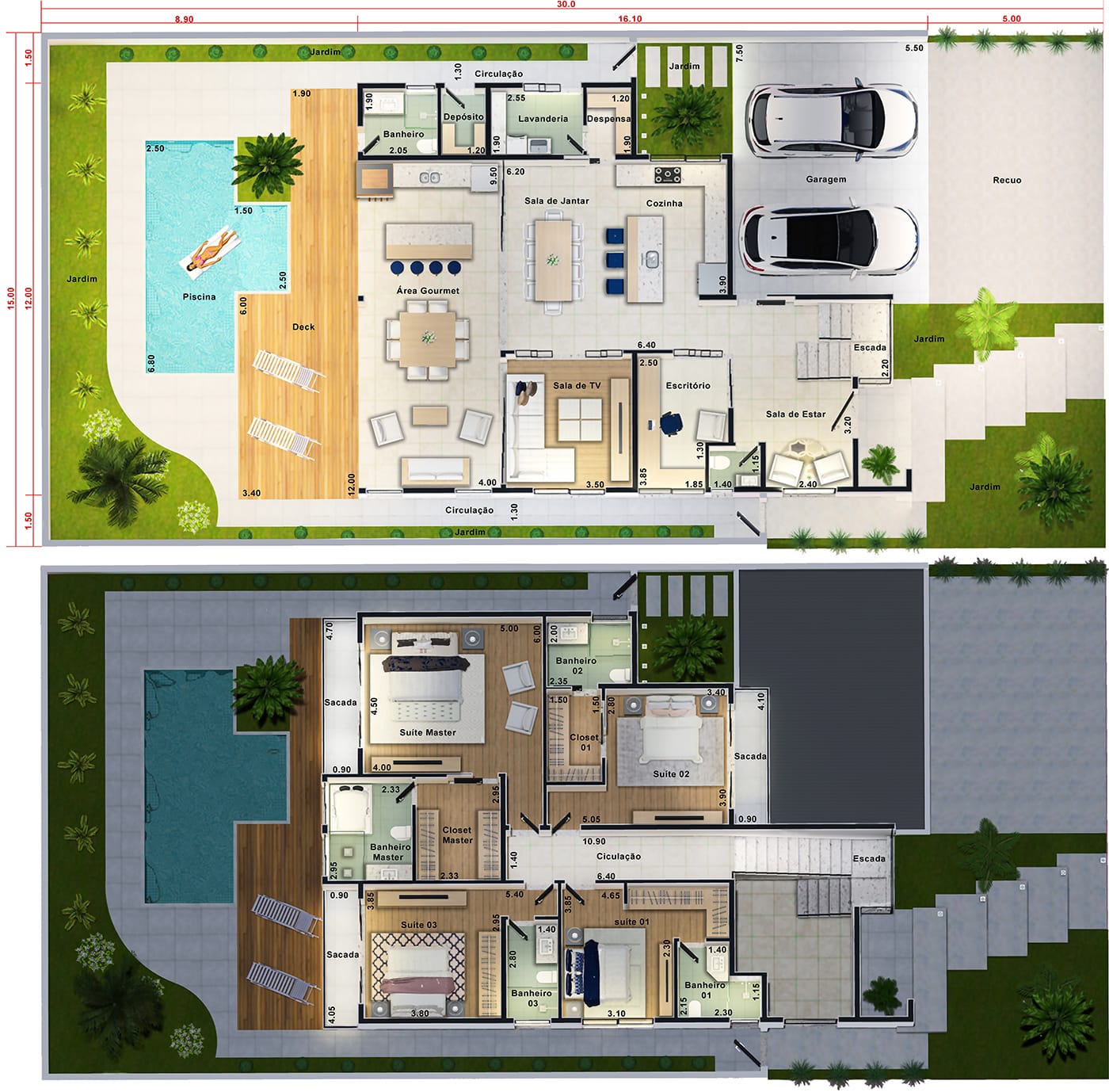 Reverse plan
OTHER PROJECTS
PROJECT
Included items
Click the items below to see an example:

Low Floor

see example

Cover Plan

see example

Humanized Plan

see example

Table Summary of Frames

see example

Example Project in AutoCAD (allows changes)

see example

Facade Elevations

see example

Internal Cuts

see example

3D Facade Images

see example

Foundation Plan

see example

BUY PROJECT READY
Our projects can be adapted by a professional in your region.
Projects are translated into english and sent via email within 10 business days.
TECHNICAL INFORMATION
| | |
| --- | --- |
| Building area | 333 square meters |
| Width of the house | 12 metros |
| Length of the house | 16,10 meters |
| Width of terrain | 15 meters or greater |
| Length of terrain | 30 meters or greater |
| Bedrooms | 4 |
| Suites | 4 |
| Bathrooms | 6 |
| Garage | 2 vacancies |
| Frontal Retreat | 5 meters |
| Background recoil | 8,90 meters |
| Left indent | 1,50 meters |
| Right indent | 1,50 meters |
CATEGORIES
SIZE OF THE GROUND
OTHER LANDS

Filter project by...