!– Código do Schema.org também para o Google+ –> <!– para o Twitter Card–> <!– para o sistema Open Graph–>
Functional one-story house project
Project code: 176A

PURCHASE
The facade of this house offers an asymmetrical design that will attract the eyes of your neighborhood. We have a high ceiling where the TV room and the dining room are located. Due to the height of the room, we have a window for natural light and ventilation. This room is integrated into the kitchen, where we have a bench for quick meals, a U-shaped kitchen and also an access door to the laundry, facilitating transportation. After the kitchen, we have an access corridor to the social bathroom and the intimate area of ​​the house, where we find the 3 bedrooms and the master suite. The 3 Bedrooms have similar layouts, with space for bed, closet and decor according to the room owner. The master suite is perfect for the couple, including enough space for a large wardrobe and TV panel. The bathroom is very spacious, making it very comfortable for the couple. This is project 176, with a facade unlike anything we've ever done and an efficient and practical floor plan, caring for everyday things.
HUMANIZED PLAN

Reverse plan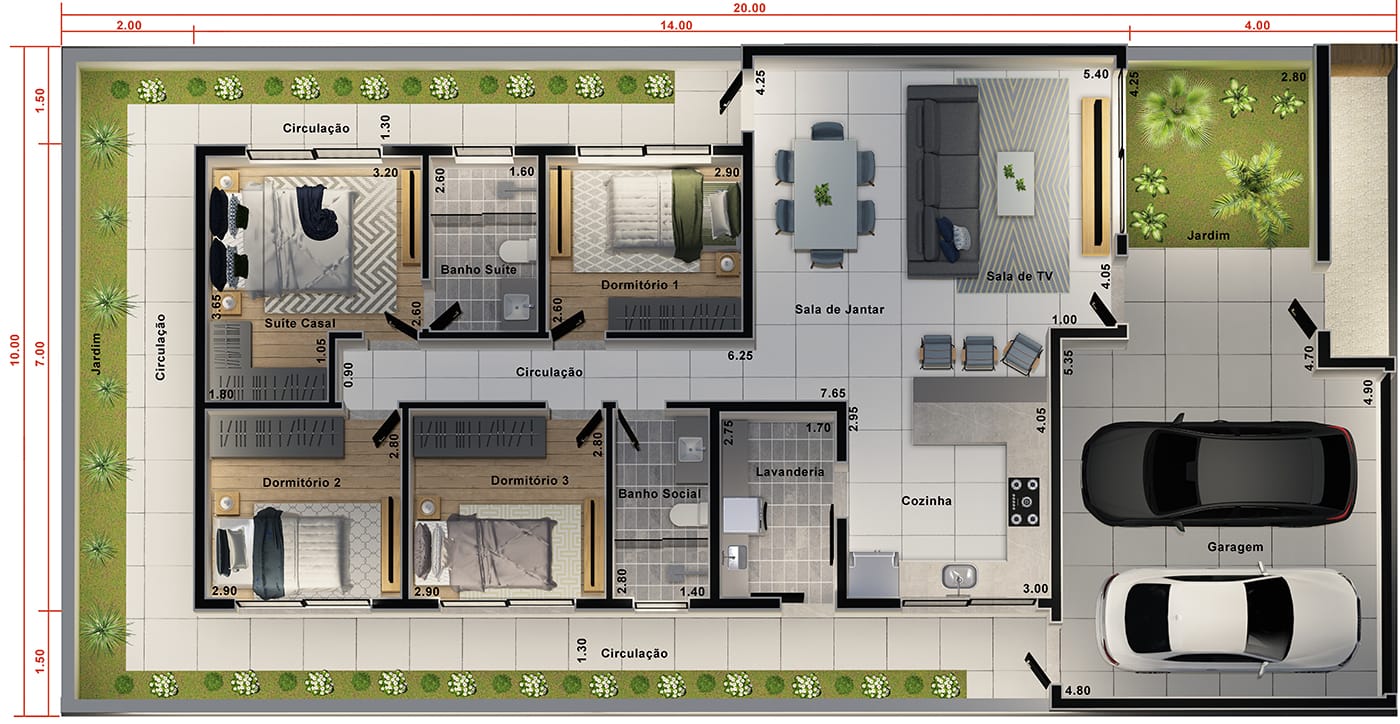 Reverse plan
OTHER PROJECTS
PROJECT
Included items
Click the items below to see an example:

Low Floor

see example

Cover Plan

see example

Humanized Plan

see example

Table Summary of Frames

see example

Example Project in AutoCAD (allows changes)

see example

Facade Elevations

see example

Internal Cuts

see example

3D Facade Images

see example

Foundation Plan

see example

BUY PROJECT READY
Our projects can be adapted by a professional in your region.
Projects are translated into english and sent via email within 10 business days.
TECHNICAL INFORMATION
| | |
| --- | --- |
| Building area | 130 square meters |
| Width of the house | 7 metros |
| Length of the house | 14 meters |
| Width of terrain | 10 meters or greater |
| Length of terrain | 20 meters or greater |
| Bedrooms | 4 |
| Suites | 1 |
| Bathrooms | 2 |
| Garage | 2 vacancies |
| Frontal Retreat | 4 meters |
| Background recoil | 2 meters |
| Left indent | 1,50 meters |
| Right indent | 1,50 meters |
CATEGORIES
SIZE OF THE GROUND
OTHER LANDS

Filter project by...