!– Código do Schema.org também para o Google+ –> <!– para o Twitter Card–> <!– para o sistema Open Graph–>
Beach house design
Project code: 109A

PURCHASE
When we think about making a project that has the presumption of being an icon, we can not simply count on the simple work of creating, we need much more than that, we need a lot of commitment, study, tests and more tests, so that in the end we are surprised by an exemplary project that draws sighs from the team. Only then do we realize how right we are. That is why we present a project that is not a concept, but the result and proof that it is possible to innovate without losing functionality and comfort. This house was designed to be built in national territory, a country that during the year goes through several different temperatures while maintaining comfort and of course an unmistakable style.
HUMANIZED PLAN

Reverse plan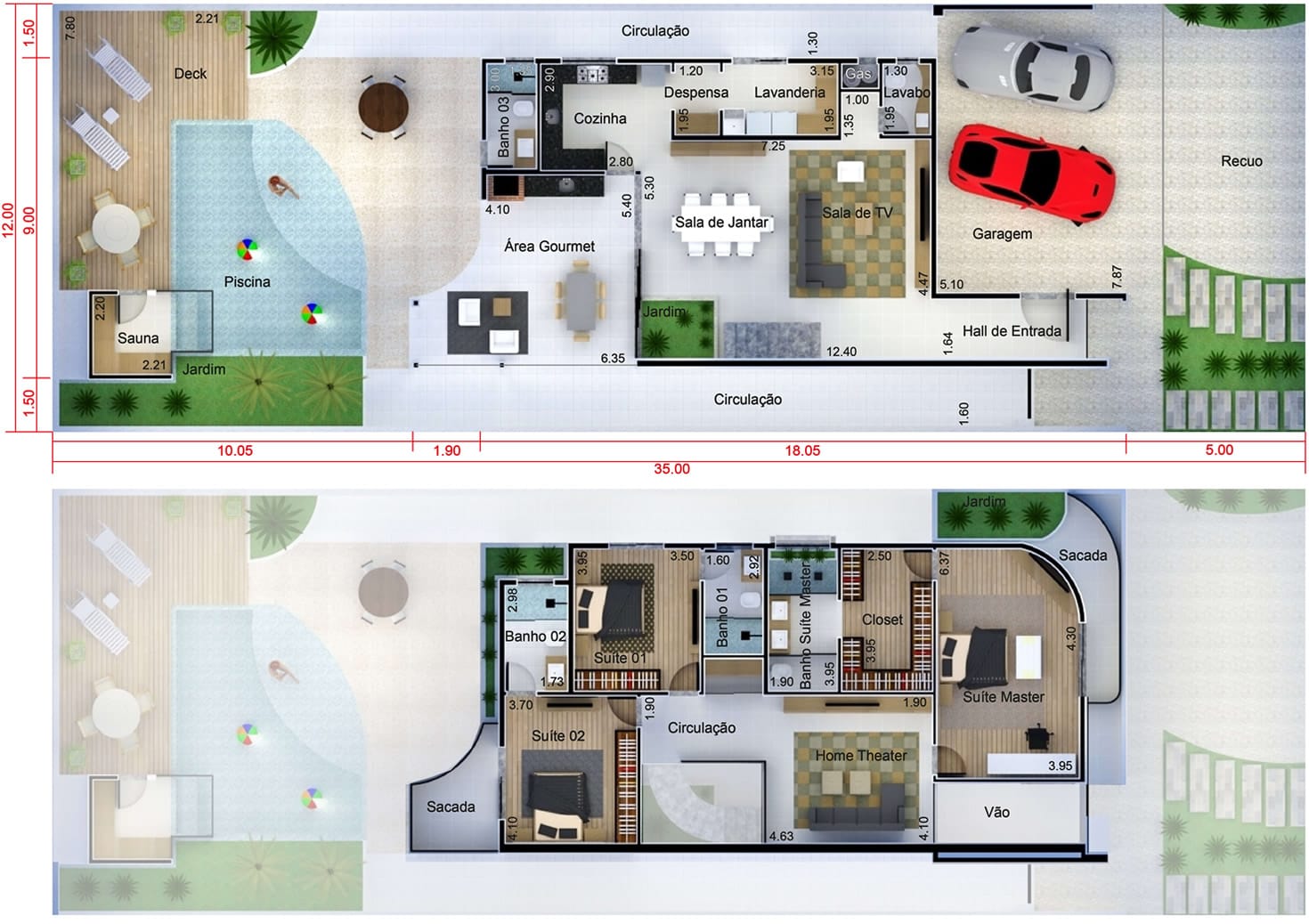 Reverse plan
OTHER PROJECTS
PROJECT
Included items
Click the items below to see an example:

Low Floor

see example

Cover Plan

see example

Humanized Plan

see example

Table Summary of Frames

see example

Example Project in AutoCAD (allows changes)

see example

Facade Elevations

see example

Internal Cuts

see example

3D Facade Images

see example

Foundation Plan

see example

BUY PROJECT READY
Our projects can be adapted by a professional in your region.
Projects are translated into english and sent via email within 10 business days.
TECHNICAL INFORMATION
| | |
| --- | --- |
| Building area | 302 square meters |
| Width of the house | 8,70 metros |
| Length of the house | 19,55 meters |
| Width of terrain | 12 meters or greater |
| Length of terrain | 35 meters or greater |
| Bedrooms | 3 |
| Suites | 3 |
| Bathrooms | 5 |
| Garage | 2 vacancies |
| Frontal Retreat | 5,00 meters |
| Background recoil | 10,05 meters |
| Left indent | 1,50 meters |
| Right indent | 1,50 meters |
CATEGORIES
SIZE OF THE GROUND
OTHER LANDS

Filter project by...