!– Código do Schema.org também para o Google+ –> <!– para o Twitter Card–> <!– para o sistema Open Graph–>
Ground floor design with double height
Project code: 167A

PURCHASE
Created by our team, this project was developed adding modernity and grandeur, starting with the façade with double height, without leaving aside the practicality of everyday life. The neoclassical style will attract attention with its clean and elegant architecture, covered with glass, natural stone and light colors. Making the most of the space of the environments, this house has a fully integrated living area, from the living room, dining room, kitchen and gourmet area, facilitating the residents' routine. In this way, we managed to separate the intimate area from the social area, giving more privacy and comfort. Complementing the gourmet area, the pool has a wooden deck and garden surrounding it, bringing harmony to the environment.
HUMANIZED PLAN

Reverse plan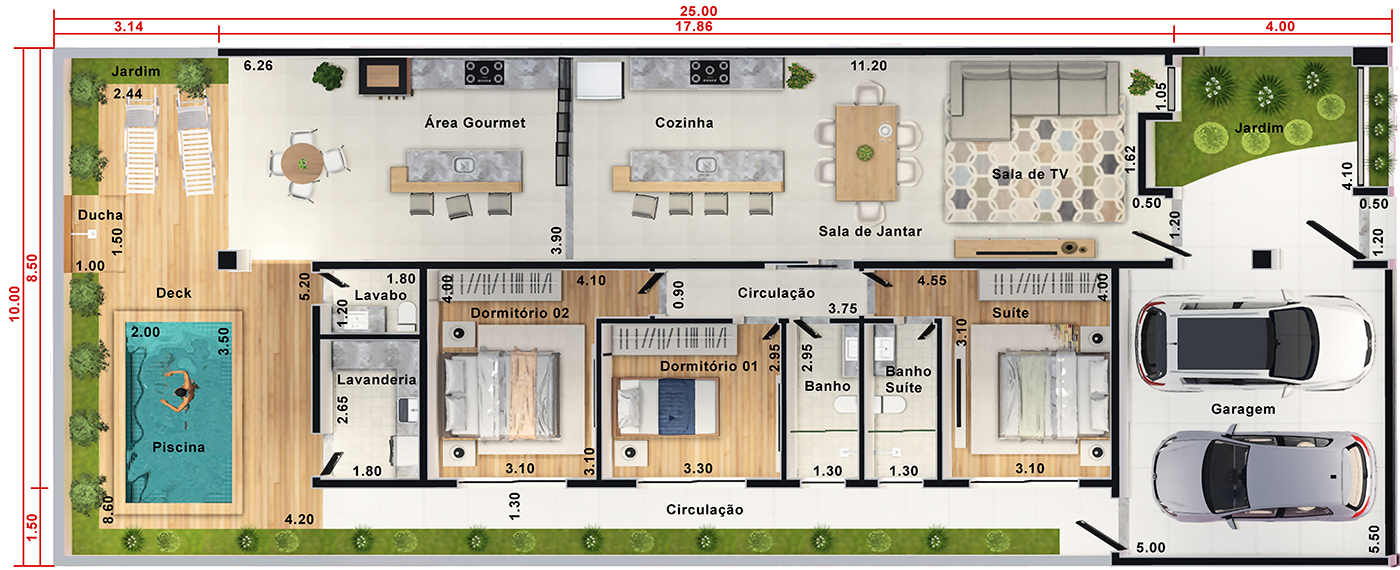 Reverse plan
OTHER PROJECTS
PROJECT
Included items
Click the items below to see an example:

Low Floor

see example

Cover Plan

see example

Humanized Plan

see example

Table Summary of Frames

see example

Example Project in AutoCAD (allows changes)

see example

Facade Elevations

see example

Internal Cuts

see example

3D Facade Images

see example

Foundation Plan

see example

BUY PROJECT READY
Our projects can be adapted by a professional in your region.
Projects are translated into english and sent via email within 10 business days.
TECHNICAL INFORMATION
| | |
| --- | --- |
| Building area | 169 square meters |
| Width of the house | 8,50 metros |
| Length of the house | 17,86 meters |
| Width of terrain | 10 meters or greater |
| Length of terrain | 25 meters or greater |
| Bedrooms | 3 |
| Suites | 1 |
| Bathrooms | 3 |
| Garage | 2 vacancies |
| Frontal Retreat | 5,20 meters |
| Background recoil | 3,14 meters |
| Left indent | 1,50 meters |
| Right indent | 0 meters |
CATEGORIES
SIZE OF THE GROUND
OTHER LANDS

Filter project by...