!– Código do Schema.org também para o Google+ –> <!– para o Twitter Card–> <!– para o sistema Open Graph–>
House project with glass facade
Project code: 28A

PURCHASE
How about building a house with very well planned environments? This is a good example of a project, as it has a master suite with balcony facing the street, leaving the beautiful design of the curved facade. Its other two bedrooms are well located in the interior of the land, besides having a great circulation for the bathroom, making it very discreet. The whole inner part of the residence was designed for optimal circulation, all accesses allow your furniture to have its proper place. In the ground floor, we ordered the environments to compose a fully integrated area. With sliding doors built into the back of the kitchen, you have the option of opening them by integrating the house with the gourmet area. Its service area has a discreet access, with exit to the back. Take a good look at this facade, imagine if she will not sigh in your street.
HUMANIZED PLAN

Reverse plan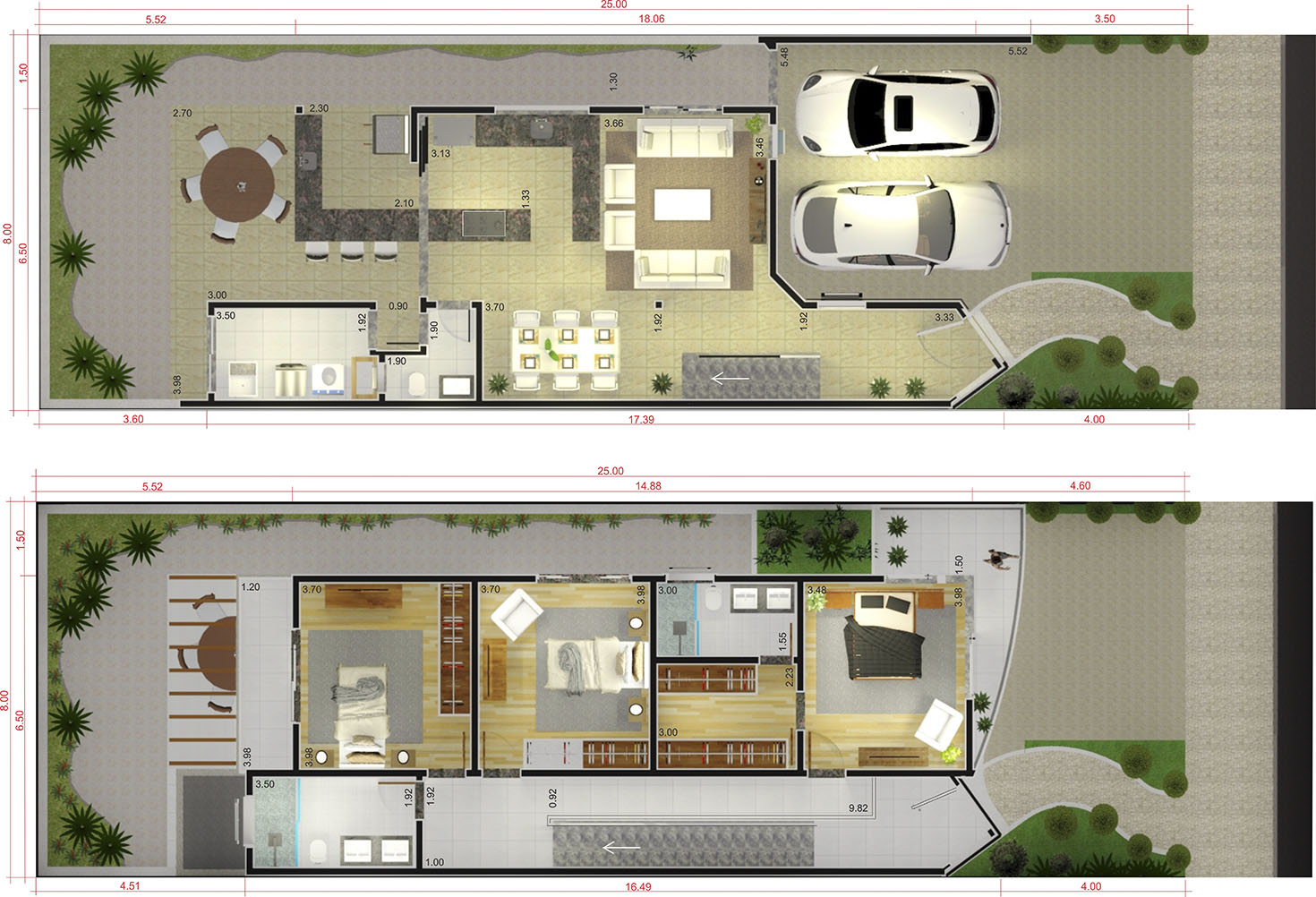 Reverse plan
OTHER PROJECTS
PROJECT
Included items
Click the items below to see an example:

Low Floor

see example

Cover Plan

see example

Humanized Plan

see example

Table Summary of Frames

see example

Example Project in AutoCAD (allows changes)

see example

Facade Elevations

see example

Internal Cuts

see example

3D Facade Images

see example

Foundation Plan

see example

BUY PROJECT READY
Our projects can be adapted by a professional in your region.
Projects are translated into english and sent via email within 10 business days.
TECHNICAL INFORMATION
| | |
| --- | --- |
| Building area | 214 square meters |
| Width of the house | 6,50 metros |
| Length of the house | 17,40 meters |
| Width of terrain | 8 meters or greater |
| Length of terrain | 25 meters or greater |
| Bedrooms | 3 |
| Suites | 1 |
| Bathrooms | 3 |
| Garage | 2 vacancies |
| Frontal Retreat | 4 meters |
| Background recoil | 3,60 meters |
| Left indent | 0 meters |
| Right indent | 1,50 meters |
CATEGORIES
SIZE OF THE GROUND
OTHER LANDS

Filter project by...