!– Código do Schema.org também para o Google+ –> <!– para o Twitter Card–> <!– para o sistema Open Graph–>
Two-story house with an intimate room
Project code: 177A

PURCHASE
In this project, we have already innovated for the façade: A differentiated design, making a parallel between the lines of the garage and the roof. Wooden details cover the façade, which contrasts well with the green wall. The balcony stands out as a space to rest and enjoy the view. Inside the house, we have the TV room integrated with the kitchen, creating a truly unified environment; as well as a gourmet area, which is separated only by a large glass door. In this way, the 3 environments are transformed into a large social area, perfect for events and that Sunday barbecue. All this is even better with the pool and wooden deck. On the upper floor, we have another highlight: an intimate area, perfect for receiving the closest, or enjoying a movie with family members. Here, we put a home office, but you can change the decor as you like. Finishing the upper space, we have 3 suites: two overlooking the back of the house and the master suite overlooking the front. The 3 bedrooms are spacious and comfortable, perfect for any type of family.
HUMANIZED PLAN

Reverse plan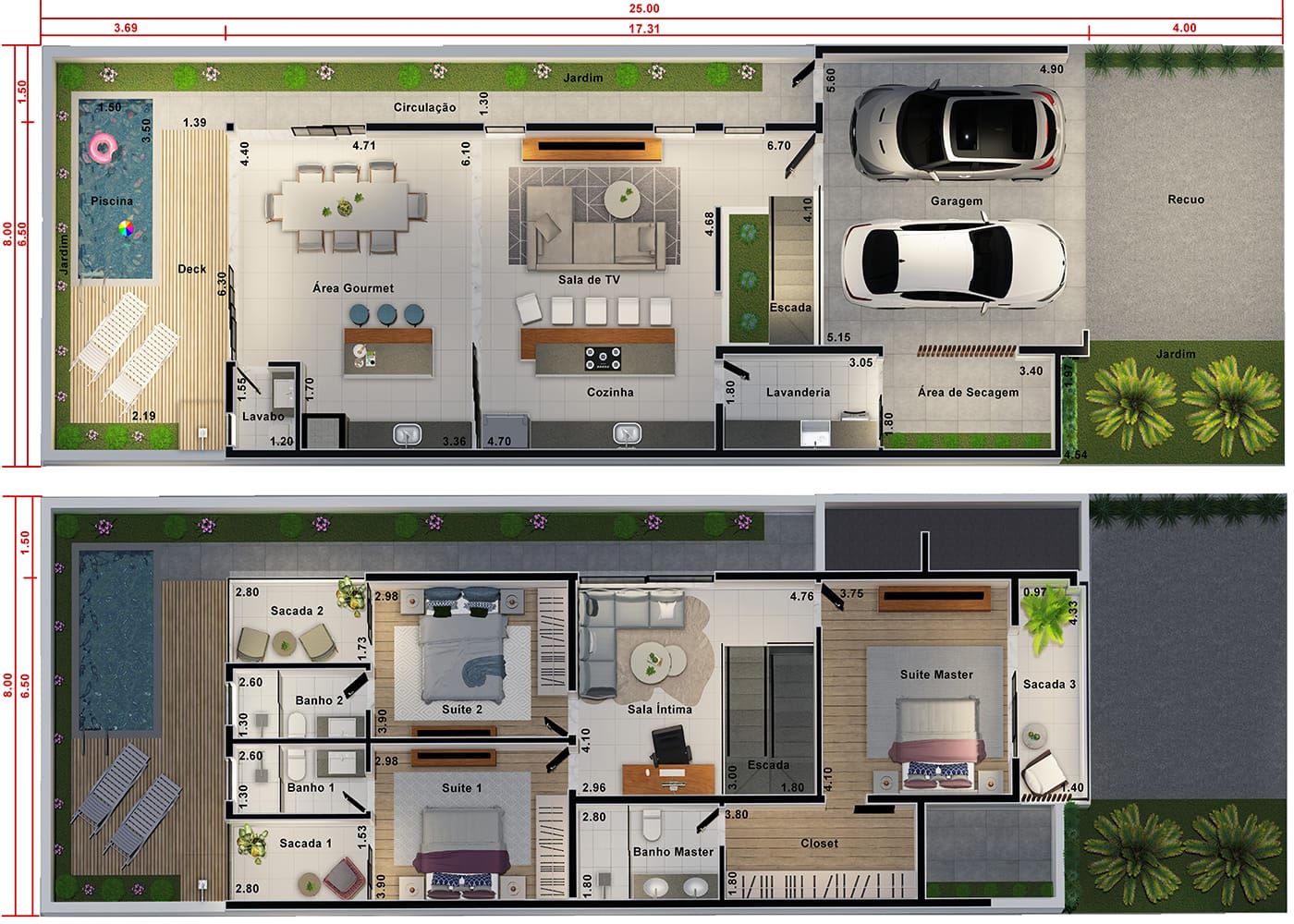 Reverse plan
OTHER PROJECTS
PROJECT
Included items
Click the items below to see an example:

Low Floor

see example

Cover Plan

see example

Humanized Plan

see example

Table Summary of Frames

see example

Example Project in AutoCAD (allows changes)

see example

Facade Elevations

see example

Internal Cuts

see example

3D Facade Images

see example

Foundation Plan

see example

BUY PROJECT READY
Our projects can be adapted by a professional in your region.
Projects are translated into english and sent via email within 10 business days.
TECHNICAL INFORMATION
| | |
| --- | --- |
| Building area | 223 square meters |
| Width of the house | 6,50 metros |
| Length of the house | 17,31 meters |
| Width of terrain | 8 meters or greater |
| Length of terrain | 25 meters or greater |
| Bedrooms | 3 |
| Suites | 3 |
| Bathrooms | 4 |
| Garage | 2 vacancies |
| Frontal Retreat | 4 meters |
| Background recoil | 3,69 meters |
| Left indent | 0 meters |
| Right indent | 1,50 meters |
CATEGORIES
SIZE OF THE GROUND
OTHER LANDS

Filter project by...